The University of Michigan Visible Human Project Receives Visitors
from the Ministry of Health, People's Republic of China (MoHPRC)
A delegation from the Ministry of Health of China, hosted by Deborah Walker of the UM School of Nursing, saw a demonstration of the Visible Human Project, on Thursday, April 19, 2001. Walter Meixner gave a presentation of the latest work of the project, showing labeled anatomical structures of the visible human female. The Edgewarp Browser, and Alex Ade's Visible Human Browser, were demonstrated. These applications allow arbitrary views of the VHP female, using data sent from the Pittsburgh Supercomputing Center. The guests were excited about the possibilities of the Visible Human for use as a teaching tool.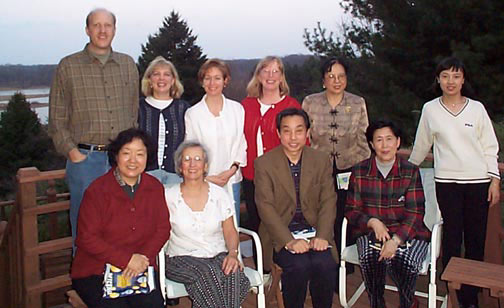 Back row (L to R): Dr. Brian Athey, Assistant Professor, UM Medical School ,
Dr. Deborah Walker, CNM, Assistant Professor, UM School of Nursing, Dr.
Susan Vonderheid, Postdoctoral Fellow, UM School of Nursing, Ms. Elaine
McIntosh, FNP, Director, UM Nurse-Managed Clinics, Dr. Mei-yu Yu, Assistant
Research Scientist, UM School of Nursing, and student, Ms. Lixin Song.

Front row (L to R): Ms. Gong Yuxiu, Director of Nursing Division, Dept. of
Medical Administration, MOH, Dr. Deborah Oakley, Professor, UM School of
Nursing, Mr. Li Changming, Director-General, Dept. of Maternal and Child
Health, MOH and Ms. Zhang Zhijun, Secretary-general, Chinese Nursing
Association
History of the sister-school program between The University of Michigan School of Nursing, and Faculty of Nursing, Beijing Medical University.

http://www.umich.edu/~nursing/usachina/chronology.html