The Visible Human at the Annual Conference of the Metro Detroit Science
Teachers Association
The latest University of Michigan Visible Human Project software was shown to interested high school science teachers from the Detroit area. The conference was held Saturday, October 26, 2002 at Lawrence Technical University in Southfield, MI. Recent versions of the PSC Browser, the i-Voxel Browser, and the Edgewarp Browser were shown. Using high bandwidth connections, Visible human Female data was downloaded from a server at the Pittsburgh Supercomputing Center. Presenting was Alex Ade (creator of the i-Voxel program), Walter Meixner, Alex Terzian, and Aaron Bookvich. Thanks also to Gregory A. Marks, Associate Director, Learning Systems at the Merit Network and Jeff Whitker from the Metro Detroit Science Teachers Association.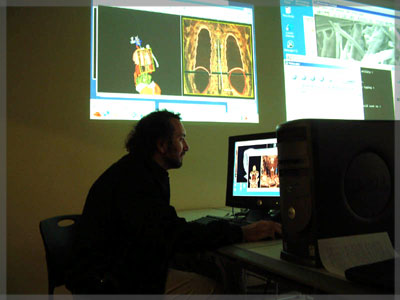 Alex Ade (Edgewarp on Projection and i-Voxel on Screen)